New Zealand's Original Lanolin Skincare Since 1980.
The natural oil in sheep's wool is an exceptional moisturiser, soothing skin cells and providing a protective barrier against the elements. Lanolin oil is extracted from the wool of sheep, refined and used as the foundation for our unique range of crèmes and lotions. 
Our Merino Lanolin Skin Care is the natural way to look after the health and beauty of your skin.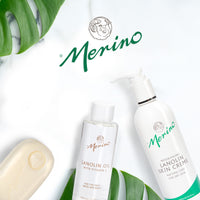 Our Belief
Our belief is the best skin care ingredients in the world are naturally created. Nature has spent millions of years perfecting how to do this. Merino is whole heartedly based on lanolin oil which is the oil nature produces closest to our human skin oil. A perfect match!
Created in New Zealand in 1980, those who have discovered the secret of Merino Skin Care are passionate advocates and life long users.
We continue to marvel at its effectiveness in many categories: dry skin, cracked heels, split fingertips, skin conditions often associated with eczema, dermatitis. Excellent for diabetics and also terrific for children and babies. Merino products help provide a barrier to protect and moisturise the most delicate skin!
SEE FULL RANGE
What the experts say
Merino Lanolin Skin Crème really does work. It's a well priced, New Zealand made product and I always recommend it."

Charlotte Russell, BSc (Hons), DipPod (NZ) Charlotte Russell Podiatry
"My staff and I have been recommending the use of Merino skin crème to our patients for over 10 years. Merino Creme is an excellent product to maintain the integrity of the skin and keep it supple which is so vital to the health of the diabetic." 

Dr Lewis Freed, D.P.M., FACFAS, East Valley Foot and Ankle Specialists,  Scottsdale, AZ, USA.
I recommend using it for anything that stretches the skin and could cause stretch marks, whether it's breast augmentation, breast reconstruction or during pregnancy." 

Dr Robert Dryden,  Arizona Centre of Plastic Surgery, AZ, USA. Clinical Professor at the University of Arizona School of Medicine
Available across New Zealand at these Leading Retailers